'Aladdin's cave' of Middleport pottery moulds being moved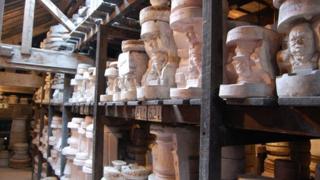 A pottery mould of Sir Winston Churchill is taken from a wooden shelf, dusted down, wrapped in cling film and bubble wrap and carefully placed into a crate.
It is a process that a team of workers at Middleport pottery in Stoke-on-Trent will have to repeat thousands of times.
They are packing up more than 19,000 historic pottery moulds and cases to be moved from the factory to part of the old Spode pottery site in Stoke town centre.
"We've estimated it's going to take us at least 12 weeks to pack all these up, we originally said eight weeks but now we've actually got going we know it's going to take a lot longer," said Naomi Gallimore from the team.
The moulds are being moved so that the Prince's Regeneration Trust (PRT), which now owns the Grade II listed factory, can carry out refurbishment of the building.
The trust is also planning to catalogue the collection which has been built up by pottery firm Burgess, Dorling and Leigh, since 1888.
"Some of these moulds actually pre-date the factory itself," said project manager Harry Wardill.
"A lot of other pottery companies had block and case collections but with the demise of some of those they've been split up, lost, or even destroyed.
"It really is an Aladdin's cave, a really important collection and you get a feel for the size of the task as soon as you walk in the room."
Nervous moment
The moulds include cases to make busts of Shakespearean characters, plates commemorating the Battle of Britain, and tableware celebrating the Coronation of Queen Elizabeth II in 1952.
They work by pouring a mixture of clay and water, called slip, into them and letting the clay set into the shape.
The moulds are currently housed in wooden racking in three storage rooms in the attic of the pottery factory, and Naomi Gallimore said that had posed many problems.
"We've had to lower the crates out of the window using harnesses because the stairs are too narrow and the boxes would be too awkward to carry down," she said.
"It is quite a nervous moment but they are securely packed up."
The PRT bought the Middleport Pottery factory in June 2011 saving about 50 jobs and ensuring production by Burgess, Dorling and Leigh continued.
It is now spending £8.5m refurbishing the factory and building a new interactive visitor centre, gallery, factory shop and cafe.
The trust said the revamp will be completed by Spring 2014.
"We will be recreating the mould store on the ground floor of the new development," said Mr Wardill.
"The idea of cataloguing them is to not only understand what we've got but it's also a publicly funded project so it's about getting people access to the collections."
The cataloguing, paid for with a £15m Heritage Lottery grant, is expected to take 18 months.
The PRT said it had been able to store the items at the old Spode site after agreeing "a peppercorn rent" with Stoke-on-Trent city council.
Staff from Middleport Pottery will work with a team of volunteers and students from local universities to document every mould.
As well as displaying them, some moulds will be put back into production to create special collectors pieces of pottery, the Trust said.