Ruby Owen has 'weeks to live' after cancer returns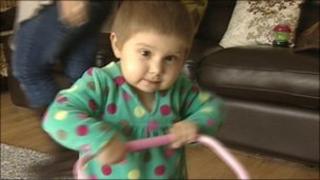 A five-year-old Staffordshire girl who had previously undergone treatment for a brain tumour has weeks to live, her father has said.
Ruby Owen, from Kidsgrove, has twice been flown to the United States for pioneering treatment.
Her father Martin posted a message on Facebook saying the "(C word) has come back and there is nothing they can do for her this time".
Ruby was first diagnosed with a rare form of brain tumour in 2009.
She was flown to the US the following year and after treatment a scan revealed her cancer had gone.
'Hearts torn in two'
But in February this year a second tumour was revealed and £120,000 was raised to send her to the US for more proton therapy that is unavailable in the UK.
Mr Owen described the support their family had received ever since the initial diagnosis as "phenomenal".
In his post he added: "They have said it will only be weeks not months.
"Our hearts have been torn in two yet again we are doing our best to stay strong.
"We would just like to say thank you to each and every one of you for all that you have given, time and money, to help keep our baby girl as well as she has been."