Sandbach residents protest against development plans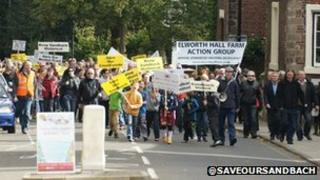 Campaigners have held a demonstration to protest against development plans in a south Cheshire town.
Plans submitted to Cheshire East Council for Old Mill Road, Sandbach, include retail and leisure facilities.
Using the Twitter account @SaveSandbach, one campaigner said 2,000 people turned up to march through the town on Saturday.
Cheshire East Council is due to consider the plans at a meeting on Wednesday, 14 November.
Those opposed to the plans said the second phase of the development would include permission to build 650 new homes in the area.
Several residents have commented on the plans, many objecting to how the development would affect traffic, wildlife and traders in the area.
Conservative MP for Congleton Fiona Bruce said: "It's important we have development but it needs to be in the right place and locally led in accordance with residents' wishes.
"It also needs to be in the right place not on green field sites when there are brown field sites to be built on."