Pottery company plants flowers to attract investment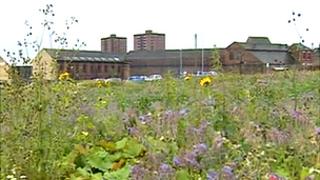 A ceramics company has planted thousands of flowers on derelict land around its factory in Stoke-on-Trent to try to attract investment to the area.
Emma Bridgewater pottery has spent £10,000 planting wildflowers, poppies and sunflowers on the site in Hanley.
It has been empty since a housing estate was demolished in 2007 as part of a government-funded programme.
Managing director Matthew Rice said: "You've got to make the city attractive to help revitalise the economy."
He added: "To do it successfully you have to make it feel like an attractive place to live and this a very small part of that overall process.
"There used to be a big sign hanging off the last terrace saying 'Welcome to Beirut' as you came in here, so it was very bleak and we want to attract investment to this area."
'Look respectable'
The five acres of land around the factory was part of the Pathfinder Project housing scheme.
It was a plan by the former Labour government to demolish 90,000 terraces nationwide, renovate thousands more, and revive the housing market in places that were missing out on the property boom.
That was scrapped by the coalition government in 2010 as part of its Spending Review.
Stoke-on-Trent City Council, which now owns the land, said it would be asking housing developers to invest there in 2013.
Jon Fairburn, from Staffordshire University Business School, said planting flowers in derelict land helped "present a good image to inward investors".
He said: "If they come into a city and the first thing they see is derelict land just lying about it suggests the city doesn't care, it's neglected, that it's unprofessional.
"It doesn't take a lot of money to do up areas to at least make them look respectable."