Stoke council houses on sale for £1: Hundreds apply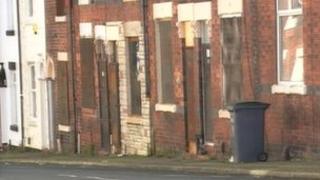 A scheme to sell 35 derelict council houses for £1 each has attracted more than 200 applications, according to Stoke-on-Trent City Council.
The authority is also offering £30,000 loans to each new homeowner to make essential repairs to the properties in the Cobridge area.
It said priority would be given to families who already live and work in the city but are on low incomes.
Buyers will have to commit to living in the property for at least five years.
'Young couples'
The council said "robust measures" would be put in place when the house is bought to stop people selling the property early or renting it out.
Councillor Janine Bridges said: "Reading some of the letters we are getting, there are young couples wanting to get their first step on the housing ladder, but there are also people who have family in the area, who've been brought up in the area."
She said the council's aim was to bring 124 properties back into use and improve the overall appearance of the city, while also "reducing crime and increasing the housing supply".
In total, 4,918 properties are empty within Stoke-on-Trent of which 2,107 are classed as long-term empty, the council said.