Rugeley couple sentenced for debt sale fraud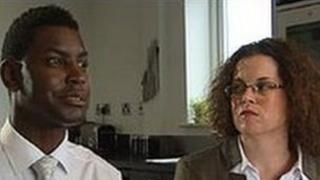 A Staffordshire man has been jailed for four years after fraudulently claiming he could clear people's debts.
Basil Rankine, 46, and his wife Amanda, 36, were convicted of a total of 14 offences, including fraud and providing misleading information.
The couple, of Somerset Avenue, Rugeley, made more than £1m in fees through their firm Credit Card Killer by promising to buy up debt.
Amanda Rankine was given a two-year jail sentence suspended for 18 months.
The couple were also banned from being directors of a company for seven years.
They were convicted after a seven-week trial at Birmingham Crown Court.
The case followed an investigation by the England Illegal Money Lending Team, based at Birmingham City Council.
The team said the Rankines had bought up millions pounds of debt without the permission of lenders, meaning debtors continued to be pursued for repayments.
Councillor Barbara Dring said: "Through unscrupulous methods used by Credit Card Killer, consumers were made to pay large amounts of money for a service that couldn't be provided."
Credit loopholes
Two years ago the couple were banned from running a "debt sale" company after an investigation into their practices.
The Illegal Money Lending Team said computers and other equipment was seized from premises in Birmingham after it became clear the firm was still operating.
The couple set up the business after using loopholes in credit agreements to avoid paying tens of thousands of pounds of their own debt in 2008.
Gordon Ramsay, deputy director for enforcement at the Office of Fair Trading (OFT), said: "People in debt should beware of firms claiming to be able to write off your debt."