University Hospital of North Staffordshire calls for £1m return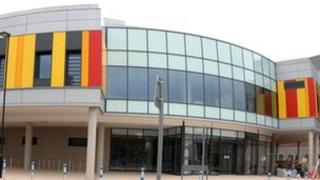 A Staffordshire hospital has called on commissioners to hand over £1m which was withheld from this year's budget due to poor performance.
The money was kept from University Hospital of North Staffordshire after it "persistently" failed to meet targets in Accident and Emergency.
Hospital chief executive Julia Bridgewater said waiting time targets had been met since July.
She said the £1m shortfall could affect services in the long term.
The hospital needs to make savings of £47m in its 2012/13 budget.
Ms Bridgewater said: "We hope they [clinical commissioning group] will look at our performance over the last 10 weeks."
The Clinical Commissioning Group (CCG), which funds hospital services throughout north Staffordshire, can choose to return some or all of the funding, according to the trust.
Ms Bridgewater added: "We're not withholding any sort of treatment or care because of that fine at the moment.
"But obviously at the end of the year if I'm in deficit that might impact upon future years."
The hospital opened a purpose-built A&E unit in March, as part of a £400m new hospital.
Medical director Gavin Russell said the new unit was originally designed to treat up to 290 patients a day, but was now dealing with 350 patients, "with peaks of over 400".
Short-term beds
He said: "If that's the success of the new department we're paying for it by attracting more patients.
"We have to find about 100 empty beds a day, which means we are having to discharge 100 patients a day."
In the first quarter of the financial year, 89% of A&E patients were seen within four hours.
Since July, Ms Bridgewater said it had met the 95% target, with more than 98% of patients treated so far in September seen within four hours.
She added: "What we've really concentrated on is our flow of patients.
"There wasn't really a big problem with A&E, but we have to make sure that there are beds for those we want to admit."
The trust said it had increased the number of consultants in A&E and the number of short-term beds elsewhere in the hospital.