Stafford Hospital A&E to remain closed at night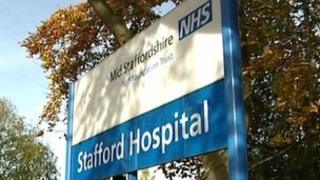 The accident and emergency (A&E) unit at Stafford Hospital is to stay closed at night, despite managers saying it was "safe" to reopen.
A&E has been shut to patients between 22:00 to 08:00 since December 2011.
A meeting of the Mid Staffordshire NHS Foundation Trust last week heard standards had now been met to reopen.
But the hospital commissioning board has decided to keep it closed because it was concerned about "the sustainability of a 24-hour service".
The board said it was also worried about "the dilution of senior staff presence" but that "much had been learned" from the closure period.
It said it was now looking at 24/7 emergency and urgent care service, which would be set up at the hospital as a pilot by December.
'Absolute disgrace'
During the closures the hospital has continued to accept children, maternity and GP-assessed patients overnight. Chief executive Lyn Hill-Tout said they would look at extending this service.
She said: "Of the average, 12-15 patients each night who currently go elsewhere, we will be looking at ways in which they could be treated at Stafford, although clearly some may still need to travel.
"We will not reopen against the commissioner's wishes but will work with them to provide alternatives for those who can be treated locally."
Overnight closures of A&E began in December 2011 because the hospital was unable to recruit enough specialist staff to keep it open.
Ray Salmon, from Unison, which represents hospital staff, said: "We were told in June that the department was ready and able to open for 24-hours a day.
"We were told they needed to do some final tweaking to make sure that patients could be discharged to the wider hospital and now we've just been told it's not happening, it's an absolute disgrace."
Cure The NHS, an organisation that has campaigned for better care for patients in Stafford, said it welcomed the decision.
Julie Bailey, from the group, said: "The community needs its accident and emergency department but we have to remember that the service was in a state of collapse a year ago."
On Tuesday the health service watchdog, Monitor, announced a rescue package for the Mid Staffordshire NHS Foundation Trust.
It said financial advisors, accountants, administrative and legal service firms will form part of the team recommending how services should be run.