Nova Centre at Keele University 'helping businesses expand'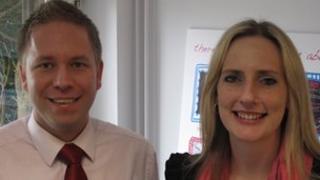 "We're trying to sell an image and working in a room in my mum's house, with respect, it always undermined what we were trying to do."
When Kate Salmon decided to set up a graphic design company with business partner David Purkiss in December 2009, they initially based themselves at a converted bedroom in Newcastle-Under-Lyme.
But the pair said that brought about its own problems.
"It's difficult solely to be judged on the quality of your work, if you're bringing clients back to what is effectively a bedroom in a house, it gives off the wrong impression," said Mr Purkiss.
"We outgrew the space and so made the decision to find a place to go, but it had to be right location wise and financially."
In June, DK Design moved to a new centre at Keele University which is helping new businesses to set up and expand.
The Nova Centre is a converted farmhouse that houses six companies which are taking part in a university-run enterprise programme.
"The office here gives us much more of a professional air and being on the university grounds we can make use of the facilities for conferences," said Miss Salmon, who said the company was in the process of recruiting more staff.
'Like-minded businesses'
Each firm pays about £70 a month for rent and has automatic membership with the Staffordshire Chamber of Commerce as part of the programme.
Mr Purkiss said: "It puts us in touch with people who can give us advice on things like sales, marketing and finance, so whatever we're looking for they can point us in the right direction."
Another business which said it was benefiting from the move to the Nova Centre was software and web developer Digital Delight.
It was started in a house in Newcastle-Under-Lyme by friends Alan Pierce and Mandy Robinson after they were both made redundant in 2008.
"It's good being amongst like-minded businesses because when you work from home you don't get to see anyone else," said Mr Pierce.
"Here we're in a great community of businesses and we can work with and off each other."
Each firm is allowed to stay at the Nova Centre for a maximum of two years, when it is hoped they will have outgrown the premises.
It was officially opened by Business Secretary Vince Cable on Thursday.
He said: "The government wants to make the UK the best place in Europe to start, finance and grow a business."
"Ventures such as the Nova Centre can help us achieve that goal through offering specialist support for businesses in their early stages of trading to help them grow and create jobs."
Keele University said local accountants, solicitors and marketing experts had also pledged to give their time for free to help the businesses.
University vice-chancellor Prof Nick Fossett said: "In the current economic climate, universities have an important role to play in supporting UK businesses.
"It's very much our expectation that in the future, the businesses that become residents at the Nova Centre will be graduates from the university."