London 2012 gold medallist Anna Watkins returns to Leek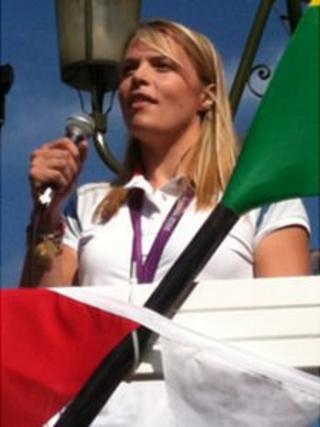 Olympic gold medal winning rower Anna Watkins has been honoured with a civic reception in Leek, Staffordshire.
Watkins, 29, who is from nearby Longsdon, won gold in the women's double sculls at London 2012 with team-mate Katherine Grainger.
About 2,000 people lined the town centre streets to see her driven around in a vintage Rolls Royce, before crowds gathered in the Market Square.
She told them that she was "proud to come from Leek".
She said: "There's an African proverb that says it takes a village to raise a child and I think in some parts of the country that's not true but in Leek it really is.
"When I left Leek, when I was 18, I left strong and confident and ready to take on the world and I want to thank everyone who made that happen for me."
Watkins then went to a civic reception organised by Staffordshire Moorlands District Council at its Moorlands House headquarters.
She met pupils from local schools and youngsters from local rowing and sports clubs.
Council leader Sybil Ralphs said: "[Anna] is an inspiration to young people because of her dedication and talent and it's young people we want to get involved in sport."
"Her achievement is a great advert for hard work because you don't get gold medals handed out like popcorn."
The athlete also has a gold postbox in Derby Street in the town.