Stafford Hospital A&E 'safe' to reopen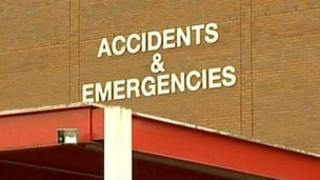 Managers at Stafford Hospital have said the Accident and Emergency (A&E) unit is safe to reopen to overnight patients.
The department has been closed between 22:00 and 08:00 since December.
An initial three-month closure was extended as the unit struggled to hire consultants and middle grade doctors.
At a meeting on Thursday the hospital trust said A&E was now safe to reopen. The final decision is expected to be made by commissioners on Wednesday.
A report to the Mid Staffordshire NHS Foundation Trust said all of the required standards had now been met and in other areas where they were falling short they were taking mitigating action.
Stronger position
The meeting did raise questions over its sustainability, with a national shortage of middle grade doctors, who will be expected to run A&E.
The Clinical Commissioning Group (CCG), which pays for the service, has also released proposals to downgrade the department to an Emergency and Urgent Care Centre.
Managers ruled in April that the unit was ready to reopen, a decision which was rejected by the CCG, which said A&E needed more time.
The hospital trust said it was now in a much stronger position than earlier in the year.
Stafford's Conservative MP Jeremy Lefroy said it was clear a "lot of progress" had been made in the unit in recent months and that he would like to see night-time patients returning to Stafford A&E.