Warwickshire's Middleton Hall restored by volunteers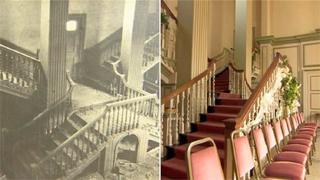 A group of volunteers have reconstructed a derelict Grade II listed building in north Warwickshire.
The oldest building at Middleton Hall, near Tamworth, dates back to 1278 and guests have included Queen Elizabeth I.
The buildings at the site are rented to a charitable trust which is hoping to raise a further £1m to finish renovations in a Tudor barn.
Trustee Brian Teall, 82, said working at Middleton Hall was like "having an extended family".
He said: "[The building] was absolutely terrible - it was derelict. [It had] no windows, no doors. I walked right through the buildings and everything was wrecked."
He added that the Tudor barn, which is on English Heritage's At Risk register, was "quite dangerous" and was the trust's "top priority" in its ongoing restoration plans.
The trust currently has a group of about 25 volunteers who are mostly retirees working on the building and in the gardens surrounding it.
Volunteer Peter Thorpe said: "There is a tremendous base of talent of people who are retired.
"You can see what's been achieved over the years, long before I came here."
The trust has leased the property since 1980 and will retain the house for a further 30 years.
The charity is funded by open days, weddings and conferences held at the venue.