Aidan Burley: Council should buy Cannock Chase Hospital share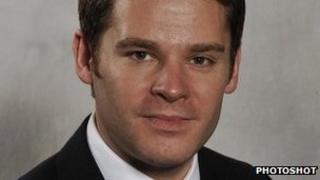 A Conservative MP has called on a Staffordshire council to investigate the feasibility of buying a controlling stake in a hospital to "protect" it.
Aidan Burley said Cannock Chase Hospital's plans to close its kitchens had raised fears over the possible downgrading of the hospital.
Cannock Chase District Council said it was "very unclear" how it could raise the money to buy part of the hospital.
The hospital said it had not considered selling part of its estate.
'Best way'
Mr Burley said he was setting up a working group of "local NHS experts and stakeholders to set out a way for the council to purchase at least 51% of the hospital estate".
Cannock Chase District Council said it was determined to see the hospital's long-term future secured and it would "play its part" in the working group being set up by Mr Burley to discuss the hospital's financial viability.
Muriel Davis, the council's lead member for health and wellbeing, said: "It's very unclear at this stage how the council is expected to raise the money to take a controlling stake in the hospital, or indeed whether this is feasible or the best way forward.
"We look forward to discussing this further as part of the working group."
'Not informed'
Lyn Hill-Tout, chief executive at Mid Staffordshire NHS Foundation Trust, which manages the hospital, said: "It's not even in our bottom drawer the idea of selling Cannock Chase Hospital.
"We are continuing to invest in services at Cannock and want these services to grow.
"We have some empty wards, not because we have closed services at Cannock, but because the way some of the services are provided has changed dramatically over the last few years."
She said many operations were now performed as day surgery, meaning fewer patients needed an overnight bed.
A trust spokeswoman said proposals to close kitchens at Cannock and send food over from Stafford were put forward in early August and a staff consultation over the issue was due to end on 28 September.