Survivors of a Nazi massacre visit Stoke-on-Trent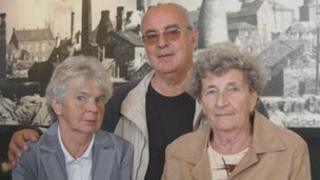 Three survivors of a wartime massacre in Czechoslovakia have arrived in Stoke-on-Trent to mark the anniversary of an organisation set up to help them.
Marie Supikova, Jana Hanzlikova and Pavel Horesovsky survived a Nazi attack on the village of Lidice near Prague on 10 June 1942.
People in Stoke-on-Trent raised funds to help reconstruct the village.
The city council is supervising the visit which includes a memorial concert at Victoria Hall in Hanley on Saturday.
The attack on Lidice was in retaliation for the assassination of Reinhard Heydrich, the highest ranking Nazi official in the Protectorate of Bohemia and Moravia.
'Permanent bond'
Nearly 180 men were executed there and many women and children from the village were murdered in concentration camps.
The massacre inspired Stoke city councillor Barnett Stross and local miners to set up the Lidice Shall Live campaign in September of that year to raise funds for the rebuilding of the village.
Czech Republic Ambassador Michael Zantovsky said: "I believe after 70 years we can speak of a permanent bond between the people of Stoke-on-Trent and people of Lidice."
The survivors will be accompanied on their six-day trip by the mayor of Lidice and the curator of the village's art gallery.
They will attend the unveiling of a memorial plaque to Sir Barnett Stross after Saturday's concert marking the 70th anniversary of Lidice Shall Live.