Remploy staff in Staffordshire join strikes on closures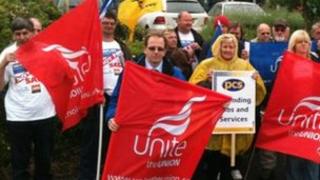 Workers at a Remploy factory in Staffordshire have joined the first of two 24-hour strikes across the UK over plans to shut factories.
The government plans to close 27 factories in total and has said the £320m budget for disabled employment services could be better spent.
More than 100 workers joined the picket line outside the plant in Trentham.
Colin Hanley, the factory's Unite union representative, said: "We're not militant, we just want to work."
According to the Department for Work and Pensions, the 27 factories lost £68.3m last year.
'Keep fighting'
They will close between August and mid-December, with the loss of 1,421 jobs.
Mr Hanley said: "We've got to keep fighting.
"We're only striking because we want to have the opportunity to work, many workers will have nowhere else to go, with no chance of finding so-called mainstream employment."
The factory in Trentham makes street furniture, and components for General Motors and the Staffordshire digger-maker JCB.
The GMB and Unite unions said its members were planning a second strike for Thursday, 26 July.
The Department for Work and Pensions said: "We're disappointed that the unions are taking strike action which will do nothing to secure the future jobs of Remploy staff.
"The government would encourage the trade unions to fully engage with Remploy during the consultation process to provide the best possible support and success for disabled staff who may leave the company."