Wife of missing runner John Lawton 'desperate' to find him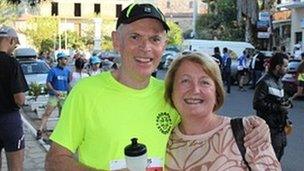 The wife of a runner who went missing in Greece more than a week ago has said she is now "desperate".
John Lawton, aged 62 from Alsager in Cheshire, has not been seen since Sunday 8 April when he ran in the Taygetos Challenge 2012, near Kalamata.
Lynda Lawton said: "He's got to be somewhere in these mountains, he's got to have fallen or become injured."
Search teams, including police, fire crews, tourists and sniffer dogs have been helping to look for him.
A spokesperson from the Foreign Office said it was providing consular assistance to Mr Lawton's family and was liaising closely with the Greek authorities.
The British embassy in Athens has also been informed and is assisting with the search.
Mr Lawton has not been seen since the latter stages of the competition after his name was ticked off at the fourth check point along the route.
Mrs Lawton said John's brother David had flown out to Greece from Holland and two family friends from the UK had also now joined the search.
She said: "Everywhere is still being searched thoroughly, it's just such a vast area and we're hoping to use the helicopters again to reach some of the spots we can't get to.
"We're just getting so desperate, we're trying to keep each other going and I've had so many messages of support via Facebook and text messages from friends at home."
Last week the couple's son Steve retraced the route of the extreme marathon his father was taking part in.
He said the terrain was "incredibly mountainous" with deep gorges and sheer drops but added that his father "knew what he was doing."
Mrs Lawton said she was worried the search would lose momentum.
She said: "I know what it's like when people from abroad go missing, we've had a few clues but they've all been red herrings.
"We can't give up, I can't give up - he's got to be here, we've got to find him."
Related Internet Links
The BBC is not responsible for the content of external sites.