Stafford Hospital targets bowel cancer in under-60s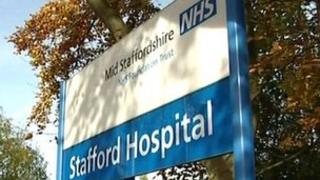 Stafford Hospital has become the first in the UK to employ a dedicated nurse for bowel cancer in the under 60s.
Cancer support charity Macmillan has supplied the nurse - who will look for the condition in people as young as 18 - to the Mid Staffordshire Trust.
The post is partly funded by a charity run by Christine Woodward - whose son died from the disease.
The trust said it would also be able to offer family genetic screening for bowel cancer for the first time.
The new three-year pilot service aims to identify high-risk patients and support cases of bowel cancer in younger patients earlier by removing the age criterion, which is currently 60.
This post will be based primarily at Stafford Hospital, with clinics held at Cannock Chase Hospital, and has been paid for by the Martin Woodward Cancer Trust and Macmillan Cancer Support.
'Save lives'
Mrs Woodward, who set up the trust in memory of her son, said: "Martin died 23 days after surgery, from bowel cancer he did not know he had - early diagnosis could have saved his life.
"The launch of this project is the culmination of several years' hard work and we hope it will help prevent other families from experiencing what we have gone through. That has been our only aim from the start."
Sunitha Rajan, the new Macmillan nurse, said: "I was very touched by Martin's story and am confident that this new service will save lives.
"If all goes to plan, it will mean the signs and symptoms of colorectal cancer in those aged 18-59 will be recognised more frequently both by the public and by GPs.
"GPs have been notified of the new service and have also been asked not to assume that a patient doesn't have bowel cancer, based solely on their age."