Stafford Hospital needle error warning to staff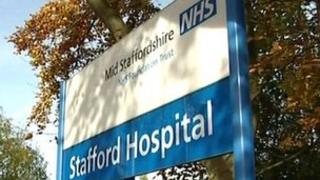 NHS chiefs have warned disciplinary action will be taken against Stafford Hospital staff who allow patients to leave with needles in their arms following several incidents last year.
Mid Staffordshire Trust said in the past year 14 people left the hospital with a cannula still attached.
They are used in a patients' arms or hands for drips and to administer anaesthetic.
Nursing director Colin Ovington said he was taking the matter "very seriously".
He said patients could develop "a nasty infection" if they were left to go home with a cannula still attached.
The trust said it had put measures in place to stop it happening.
'Real problem'
It said they included putting posters by beds on wards and ensuring nurses sign a checklist to say they have removed the cannula, which should be signed off by a ward sister.
The trust said reviews had taken place after every incident.
Mr Ovington said: "I don't want to be disciplining staff for every little misdemeanour, but for me this is a misdemeanour that could cause a real problem for every patient that goes home with a cannula."
He said he understood that sometimes patients would be "rushing out of the door" as quickly as they can, but there were last-minute checks that the hospital "should have done".
A £10m public inquiry was held last year after a Healthcare Commission report in 2009 found "appalling standards" of care at the hospital.
A million pages of evidence have been presented to the chairman, Robert Francis QC, who is expected to publish his findings later this year.