Stafford Hospital A&E: Night service to restart in June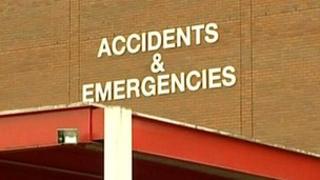 Stafford Hospital's accident and emergency (A&E) unit could reopen at night from 11 June, bosses have said.
The department has been closed from 22:00 to 08:00 since December as the Mid Staffordshire Trust attempted to recruit additional staff.
It was originally due to reopen in March but was delayed as necessary staffing levels had not been met.
On Thursday a trust board meeting set a revised target date of June to restart night time services.
Before then the hospital needs to meet the conditions it first set in December.
As well as increasing the number of consultants and middle grade doctors and training up other staff, the hospital also needs to meet national standards on waiting times.
The Mid Staffordshire Trust has set a deadline of 26 April to achieve those targets.
The Primary Care Trust and members of the GP Commissioning Group are then expected to make a final decision by 8 May.