Stafford Hospital inquiry costs public bodies £4m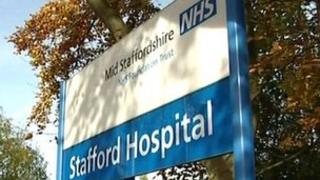 Publicly-funded organisations spent more than £4m representing themselves at the Stafford Hospital inquiry.
The figures, released under a Freedom of Information (FoI) request by BBC Radio Stoke, are in addition to £11.4m costs of the public inquiry.
A final report, due out later this year, will contain recommendations to stop the failings at Mid Staffordshire NHS Trust being repeated elsewhere.
The public inquiry followed a damning Healthcare Commission report in 2009.
The report revealed "appalling standards of care" and higher-than-expected death rates at the hospital.
The inquiry's focus was not on what happened on the wards, or the standards of care, but why none of the dozens of regulators and external bodies spotted there was a problem.
An FoI request was sent to all of the "core participants". These were the organisations who should have been monitoring what was happening at Stafford Hospital, and who were allowed to have a constant presence at the inquiry by its chairman, Robert Francis QC.
The organisations that spent the most representing themselves were the now defunct West Midlands Strategic Health Authority, and health regulator the Care Quality Commission, which both spent more than £1m.
However, both paid the bills for other organisations.
Mid Staffordshire NHS Trust, which runs Stafford Hospital, has spent about £275,000 representing itself.
According to the inquiry's website, in the period running up to December, the whole proceedings had cost about £11.4m, which covered legal costs, room hire at the Stafford Borough Council buildings, as well as things like accommodation for the staff.
The latest figures come on top of that cost.
'Investment needed'
Mr Francis had previously said all NHS organisations would have to pay their own expenses.
However, some groups, such as Cure The NHS - which is the campaign group made up of relatives of those who died - had their legal fees paid for by the inquiry.
"The public inquiry really interrogated the whole of the [NHS] system, and the whole system failed from ward to Whitehall," said Ken Lownds, from Cure The NHS.
"It would have been fine if we didn't have to go through this and the NHS had operated in the way it should have done in the first place.
"But the NHS did fail - and failed spectacularly; over a long period of time; failed across the whole system.
"This is what people would call a cost of quality... and to put it right, this is the investment you need to make."