Stafford hospital troubleshooter Manjit Obhrai set to leave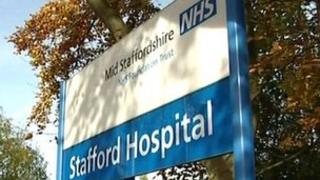 A member of the original team brought in to help turn around Stafford Hospital is to step down.
Manjit Obhrai was first approached to become medical director in 2005, but eventually accepted it in April 2009.
A month earlier, a damning Healthcare Commission report revealed "appalling standards of care" at the hospital.
Mr Obhrai was responsible for improving standards of surgery and bringing down the trust's higher-than-expected death rates.
He worked alongside Anthony Sumara and Sir Stephen Moss to help change the fortunes of Mid Staffordshire NHS Trust.
Before taking the role of medical director at the trust, Mr Obhrai had been a consultant obstetrician and gynaecologist at University Hospital of North Staffordshire for 18 years.
'Sorely missed'
Chief executive of Mid Staffordshire NHS Trust Lyn Hill-Tout said: "I would like to take this opportunity to thank Manjit for his commitment, enthusiasm and hard work.
"He has been part of the trust during the most difficult and challenging times and despite this, he has always acted with kindness, supporting individuals and with patients at the heart of everything he has done."
Ken Lownds, of Stafford campaign group Cure the NHS, said: "He's been invaluable, and was the first and only voice we could talk to following the release of the Healthcare Commission report.
"He'll be sorely missed and we hope his successor proves to be as accessible and accountable as Manjit was."
He is due leave his position at the trust in August.