Plaque for Titanic captain's house in Stoke-on-Trent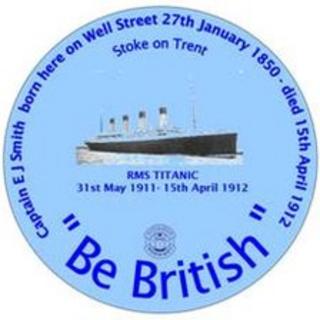 A new plaque is to be put up in Stoke-on-Trent to mark the birthplace of the captain of the Titanic, 100 years after the famous passenger ship sank.
Captain Edward John Smith was born on Well Street in Hanley in 1850.
Staffordshire's Titanic Brewery has commissioned the plaque, which will go up in the street as part of events to mark the centenary in April.
It was designed by Malcolm Hawksworth, a local potter, who previously worked at the Gladstone Pottery Museum.
"A lot of technology has gone into it to protect it from frost," said Mr Hawksworth.
"And it doesn't have any screw holes so hopefully it won't be quite so easy to steal."
Nautical beers
The house, which is a Victorian terrace, is currently up for sale.
Though Captain Smith was born in Stoke-on-Trent, there is no memorial to him in his home town. A bronze statue of him stands in Lichfield's Beacon Park in south Staffordshire.
More than 1,500 people - including Captain Smith - died in the 1912 tragedy after the ship hit an iceberg in the Atlantic.
All the beers made by the local brewery have names which are linked to the sea or the Titanic.