NSPCC fundraiser swam 150 lengths with broken ankle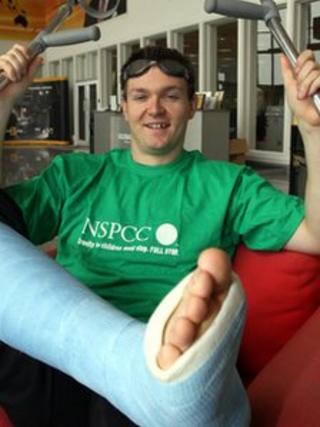 A fundraiser swam 150 lengths of a sponsored swim with a broken ankle.
Ian Barnes, 30, from Stone, Staffordshire, was one of 37 JCB employees who signed up to swim a 44-mile relay to help raise £1m for the NSPCC.
Mr Barnes injured his right foot the day before his swim on 11 March but did not want to let his colleagues down.
It was only later that doctors told him he had broken his ankle.
'Quite a shock'
Mr Barnes, who joined the company last year, completed his two-and-a-half-mile leg in one hour, 10 minutes and 17 seconds.
He recorded one of the fastest times in the 44-mile relay, which is the equivalent of swimming across the English Channel and back again.
He said: "It was quite a shock really. I injured my right foot and ankle while taking part in a 60km combined running and cycling race held in Leicestershire.
"The next morning it had swollen up but I thought it was just a sprain, so decided to carry on and take part in the swim. I didn't want to let down my colleagues or the NSPCC."
The swimmers have raised about £7,100 for the NSPCC, which has been the company's nominated charity for the past 25 years.
The firy said the money raised would help to support a specialist children's centre in Newcastle-under-Lyme to help protect vulnerable children and babies in Staffordshire.
JCB director Adrian Ross, who came up with the idea for the swim, said: "Everyone who took part is to be congratulated for their wonderful efforts but to have gone through the pain barrier to swim, albeit unwittingly, 150 lengths with a broken ankle really must have taken some doing and Ian did really well to complete his distance."