Alton Towers Nemesis Sub-Terra ride given 12A rating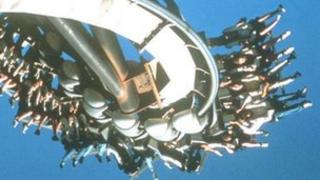 A new ride at Alton Towers theme park has been classified as "too scary" for children under 12 by the British Board of Film Classification (BBFC).
The Nemesis Sub-Terra ride at Alton Towers - which runs underground, completely in the dark - has been given a 12A age rating.
The BBFC, which was invited by the park to look at the ride, said its rating was only advisory.
A spokesperson for Alton Towers said it aimed to enforce the age limit.
It is the first time the film board has been asked to advise on a theme park ride and it follows feedback from a testing panel.
Underground phobia
Murray Perkins of the BBFC said: "[We are] seeing a real blur of the old boundaries of visual content and physical experience in both 3D and 4D cinema, and at theme parks.
"Applying our experience of the public's acceptability of moments of threat on screen, to more physical experiences, is something we have begun to do as cinema and other theatrical experiences evolve.
"After experiencing the attraction first-hand... we would recommend that Alton Towers Resort classify the new Nemesis Sub-Terra a '12A'.
"[It] contains some intense moments, in some respects comparable with scary scenes which may be experienced in horror or science fiction films at 12A/12."
The ride is based on the original Nemesis ride, launched in 1994, and will open to the public on 24 March.
Research conducted by the theme park showed 75% of people have a phobia of being trapped underground and 20% of adults are still scared of the dark.