Flashing light treatment helps Iraq nurse Hilary Horton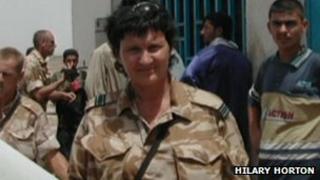 While serving in Iraq, military nurse Hilary Horton was no stranger to trauma, dealing with soldiers horrifically injured on the front line.
Because of what she experienced - including the bloody aftermath of a fatal attack on several British officers in 2003 - Ms Horton, from Staffordshire, has been receiving treatment for post-traumatic stress disorder.
To overcome her condition she used treatment developed in the US where flashing lights and other stimulants help patients deal with images that have stayed with them.
While serving with the RAF, Ms Horton was responsible for dealing with the bodies of six members of the Royal Military Police who were murdered at a police station in the south-eastern town of Amara.
Traumatic memories
Recalling the experience, Ms Horton said: "The whole day had been horrific from the beginning and then in the afternoon I hear that I'm to receive the bodies of these gentleman.
"The sight was so horrific, that I stood alone for a while with them because I couldn't bear the nurses to see them. I struggled for some while, trying to make the site so that we could cope with it as a team."
Ms Horton and her fellow nurses had to care for the soldiers before their bodies were taken to Basra hospital.
A year later, while working as an occupational health nurse back in the UK, she began to suffer flashbacks.
Five years later, she was diagnosed with severe post-traumatic stress disorder and referred to St Georges Hospital in Stafford.
The treatment that helped Ms Horton is called eye movement desensitization and reprocessing (EMDR) and helps people to process traumatic memories.
'This is bonkers'
It is a form of psychotherapy that includes eight phases of treatment and involves focussing on a moving image while thinking about a painful memory.
It helps the patient to process the difficult emotion.
Ms Horton said: "When I first saw the flashing light, and the vibrating things in my hands, I thought 'this is bonkers - how is this going to help me?'
"I went into it with enthusiasm, realising that I was quite ill psychologically."
The therapy sessions with Dr Shirley Timpson, consultant psychologist at St George's Hospital, were initially "difficult and very painful", but they helped Ms Horton to develop memories instead of nightmares.
She said: "The combination of the focussing on the lights seemed to do something to my brain, because although I could still see the four walls in the room and Dr Timpson, very realistically my mind and my thoughts were back in Iraq and it was important that we identified trigger points and talked through them.
"Interestingly, I was able to remember some of the funny and happy times."
Dr Timson said: "We process things during rapid eye movement sleep and when we dream, so we process what we experience on a daily basis.
"If something is too emotionally charged, too traumatic, we can fail to process and therefore, what EMDR does is try to emulate what happens during the natural process during sleep."
She feels that there are other servicemen and women, and people in the emergency services, who do not like to ask for help because they believe they are just doing their job.
Military charity Combat Stress, which specialises in the mental health care of veterans, said it is helping and treating more than 4,800 ex-service men and women, with 109 in the West Midlands.
These are aged between 22 and 86.