Remploy staff say Stoke factory can be financially viable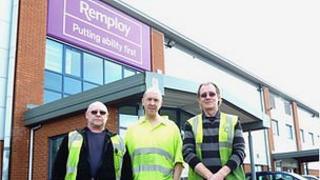 A factory in Stoke-on-Trent that employs over 100 disabled workers could shut by the end of the year.
The job agency Remploy is proposing the closure of its Trentham Lakes site and 35 others across the country.
"The workers are heartbroken, I've had so many people in tears," said 62-year-old Colin Hanley, the Unite union representative at the factory.
"How can you tell a person who has a severe learning disability that you're not coming to work tomorrow?
"He's going to turn around and say 'why, what have I done wrong?'"
Neil Box, 58, from Heron Cross, has been working with Remploy for almost 19 years. He is a "leading hand", helping to care for and motivate the staff.
"We knew something big was happening, but we didn't know what.
"Never did I think in my wildest dreams that the government could be so severe and finish the whole lot like that.
"We've got a lad called Jimmy who we have to take home because he even comes in to work on holidays.
"How are we going to explain to some of them that we're shutting for good?
"Some of the workers didn't even realise what was going on, so we had to phone their carers to explain the news to them."
'Double whammy'
"Many were devastated," said Shaun Evans, 44, from Northwood, who is another leading hand.
"But in my role, I had to get them thinking positive again.
"If this place closed down there would be a lot of people here who would never work again in their lives.
Neil Wood, 51, from Tunstall, has been working at various factories with Remploy for 34 years.
"I started here ever since leaving school. I don't know anything else.
"I love going to work. I have so many friends here. It gives me a normal life and they care for me.
"If I didn't come here, I would be stuck in a respite home or care home on my own doing nothing."
David Annable, 59, from Stoke, has been working at Remploy for 9 years. He helps to build automotive parts.
"Everyone's feeling the same; they're all walking around in a state of shock.
"Trying to find another job at my age is going to be impossible as it is.
"But with my disability as well, it's like a double whammy."
'We don't basket weave'
He is a skilled welder, but a degenerative disease has restricted him from getting a job in most places of work.
"It gives me a sense of dignity. It means you're not looked upon by society as some sort of scrounger.
"The bosses here are good. It's the ones higher up, on the board of directors, the ones you never see, that have progressively sold us down the river.
"People need to recognise the skills we've got; we can match any outside industry."
Mr Hanley agrees and is determined to dismiss some of the myths about the work that is done in the factory.
"We don't basket weave; we produce high quality goods for major companies.
"We give quality training. We have a brilliant learning centre. We've got people who care about each other.
"How many factories out there can say those things?"
Factory move
The government says "non-viable" factories should close, but many of the workers believe that the Stoke-on-Trent business can be profitable in the long run.
"I know that this is a viable operation," said Mr Evans.
"It's the building that's actually killing us, the rent is far too high.
"On the TV last night there was a Labour MP saying how he was dead against the closure.
"With where we live being a Labour-controlled area, I'd like to see the council getting involved to help us out."
The MP for Stoke-on-Trent South, Rob Flello, said he was looking at options to move the factory to a different site or getting alternative funding.
"I am speaking to the senior team at the city council, the leader Mohammed Pervez, about whether we can get the council to help in any way; whether we can see if there're premises the factory could move in to," he said.