Family of Ruby Owen touched by support after second tumour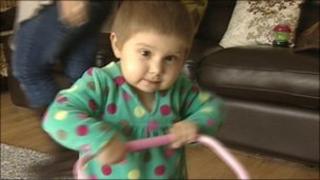 The father of a four-year-old Staffordshire girl diagnosed with a second brain tumour says he has been "touched" by the level of local support.
Almost £120,000 has been raised to send Ruby Owen, from Kidsgrove, to the US for potentially live-saving treatment.
"I read about Stoke-on-Trent being one of the most depressing and most deprived places to live in Britain, but the support has been beyond belief," Martin Owen said.
His daughter was first diagnosed with a rare form of brain tumour in 2009 but was given the all-clear, following treatment, in October.
'Aggressive tumour'
Last month, another tumour was discovered in a different part of her brain and the family have flown out to the Midwest Proton Radiotherapy Institute, in Indiana, for a second time.
The proton treatment, not yet available in the UK, allows very specific areas of Ruby's brain to be targeted with radiation.
Mr Owen said: "They've told us to get there as soon as possible, because of the aggressiveness of the tumour.
"When someone says that, but the next breath is 'we need £120,000 to do it' and then everyone in Stoke-on-Trent dips into their pockets and gives a pound, it's beyond belief.
"The first time was phenomenal, but we had months to raise the money. This time we've had just short of three weeks to raise it and we're only £5,500 short."
He said friends had held race nights and sold arm bands at local shops.
Collections were also made at two matches at Stoke City's Britannia Stadium, including the club's Europa League fixture against Valencia.
Local schools, including Christchurch school, have also held non-uniform days to raise money.
Hearts 'tugged'
Mr Owen said he believed the remaining money would be raised while his daughter undergoes treatment, which is due to start on Friday.
After an initial preparation period Ruby faces 33 courses of radiation treatment over the following seven weeks.
Mr Owen said news of a second tumour had been particularly difficult to hear.
"I've had three years off work to look after her and care for her through the first cancer," he said.
"I'd just started to apply for jobs, and went to a couple of interviews.
"One of them said they were going to offer me the job but the day before I had to ring up and say I couldn't go because Ruby's treatment had come back.
"It's been really difficult to come out and ask again for a second time for people to raise money for your daughter.
"But they see Ruby's picture and how beautiful she is and their hearts tend to get a tug and they've been phenomenal."