Stoke-on-Trent council's empty homes plan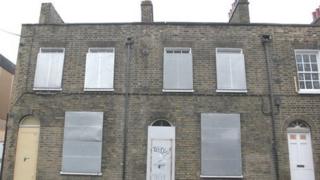 Private homes which have been empty for at least six months may be sold under Stoke-on-Trent City Council plans.
The council is to discuss adopting the "empty property enforced sales policy" for homes where damage and repairs have cost the authority at least £300.
Val Bourne, assistant director of housing services, said teams went through a "very resource intensive process" to find owners of empty homes.
The council said such neglected homes caused neighbourhoods to decline.
It said empty homes attracted crime and anti-social behaviour and were a waste of public resources.
The Labour-run council said the number of empty private homes was a "major issue" in the city and nationally.
It aims to bring a greater number of empty homes back into use "to increase the supply of decent housing in the city".
There are about 3,000 individuals or families waiting for social housing in Stoke-on-Trent.
Meanwhile, a total of 5,048 of 112,640 residential properties in the city are empty, figures show.
More than half of these have been empty for at least six months.
'Too distressing'
The council's Empty Homes Team is dealing with 188 cases in particular, and problems at 31 of these properties have so far cost the authority £10,381.59.
Ms Bourne said the team made great efforts to trace the owners through council tax and Land Registry records and by talking to neighbours at the properties.
She said sometimes people abandoned homes because they could not face selling or renting them out.
"It's too distressing at the time when they inherit it to actually think of parting with it because it was maybe the family home and the upset of losing a parent perhaps means people feel they can't just put it on the market and sell it," she said.
"But by the same token they don't feel able to manage a tenancy."
Councillors will discuss adopting the empty property enforced sales policy, which comes under the Law of Property Act 1925, at a cabinet meeting on Thursday.
The council said it would be one of a number of solutions and would not be used to sell large numbers of properties.
A spokesman said the owners of the relevant properties would always "be given the opportunity to clear the existing debt owed to the council before any sale was undertaken".
In October, neighbouring Tamworth Borough Council unveiled a scheme which would see empty privately-owned homes being rented to people on its housing waiting list.
It estimated there were about 250 empty homes in the borough and offered grants of up to £10,000 so owners could carry out repairs.
The government said the number of empty homes in England had been reduced by nearly 38,000 since October 2009 through its New Homes Bonus scheme.
However, there are still more than 700,000 empty homes across the country and about 280,000 of these have been empty and under-maintained for at least six months, it said.
Communities Minister Andrew Stunell announced £50m government funding on Monday to counter the "blight of empty homes" and bring them back into use.
Under the scheme, councils can apply for funding, which they will then have to match, to bring homes back into use.
Stoke City Council has so far not said whether it intends to apply for the government funding.