The Right Stuff women-only boxing club 'saved my life'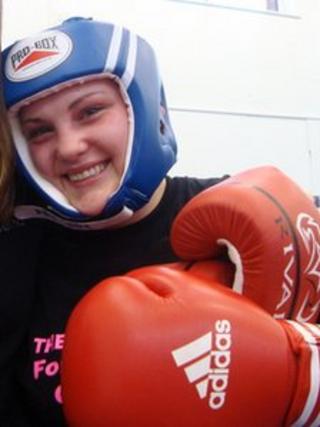 Mary-Faye Edgar is very open about her troubled past, but she is equally frank about how she was saved.
"Boxing is better than any anti-depressants, any drugs, any counsellor.
"I've never won a thing in my life, never passed anything, never achieved anything; but joining the Right Stuff has given me so much confidence and belief in myself."
In 2008, the Right Stuff boxing project was set up in Stone by local policeman Andy Whitehall. His aim was to keep young people out of trouble and to reduce anti-social behaviour in the town.
The idea spread across south Staffordshire and two years later he started a weekly class in Stafford just for women.
Based at the Emerald Gym, numbers have swelled so much that it now holds two female-only sessions a week - regularly attracting more than 25 women from their early teens to their 30s.
During these sessions, PC Whitehall said he quickly became aware that some of the participants had suffered from domestic and sexual violence.
'Vent frustration'
"When we started we had mixed gender classes and we found we weren't actually retaining those females," he said.
"And when we spoke to those who'd left, the main reason they said they'd stopped attending was that they didn't want to train with males.
"A lot of the young women that come to this club have come as a result of being involved in violent relationships.
"The boxing gives them a vent for a lot of frustration and anger that they've got, and helps to build their confidence.
"We also work on underlying issues, whether it be that they've got substance or alcohol issues or whether it's that they're in care, and there's feelings of abandonment or detachment.
"The club creates a sort of family; it's safe and they can thrive here."
PC Whitehall approached Staffordshire Woman's Aid (SWA), a charity which supports women and children suffering from violence and abuse, about the possibility of closer ties.
SWA chief executive, Dickie Chester-James, said: "The boxing club have been absolutely fantastic in terms of raising awareness in their community about domestic and sexual violence.
"Similarly, we now promote the boxing club to the young women we work with.
"It's a great way to build self-esteem and to get through the traumas of domestic violence through sport."
'Angry young girls'
Ms Edgar, 21, said when she first walked into the gym she was looking for something to help her overcome emotional problems which stemmed from being in an abusive relationship.
"In my heart of hearts I wanted to leave but was too scared, and that's why I stayed for another year and a half.
"Before, if I was to walk past him in the street, I would crumble to sand.
"My mum and Andy worked together and he said he was after some angry young girls for sparring sessions.
"And my mum joked: 'I've got one of those at home.'
"I think it's very empowering for females and helps develop confidence.
"It allows you to get all your anger and hurt out, but what happens in the ring, stays in the ring.
"It is always made clear to us that we are not allowed to practice what we learn on other people.
"I call Andy my second dad 'cos he's saved me from myself."
'Defend myself'
Not all women boxers come to the club as a result of abusive relationships.
On a blue notice board in the corner, between posters of Amir Khan and Mohammed Ali, are newspaper cuttings of some of the girls who have achieved sporting success.
Seventeen-year-old Sophie Stewart is the national Flyweight champion. She is 4ft 10in and weighs around 48kg.
"My dad's always wanted me to defend myself and I've always done some sort of martial arts," she said.
"I joined the boxing club when I was 14 and I fell in love with it and it just took off from there.
"I used to be so quiet and kept myself to myself and it's brought me out of my shell.
"I do lots of coaching now and they see me as a role model."