Hi-tech park at Redhill 'to create 2,500 jobs'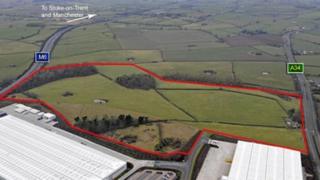 More than 2,500 skilled jobs could be created at a new business park in Staffordshire, the county council says.
The council will submit proposals for the £8.5m park at Redhill to the area's planning authority, Stafford Borough Council, in early March.
The county council's Ben Adams said the scheme would be "hugely significant" for Staffordshire and the wider region.
The seven plots will be aimed at hi-tech businesses.
The new park would be an "ideal site" for the research and technology sector, including hi-tech companies, such as engineering, computing and design firms, the council said.
'Keeping talent'
The units of between 50,000 and 200,00 sq ft can be used for manufacturing and production.
The park will be built on county council-owned greenfield land which has been designated for commercial use.
Mr Adams, the council's cabinet member for economic growth and enterprise, said: "I think it's the right way for authorities to use their assets.
"It's surprising it's not being done in more places."
He said the council was playing a vital role in the "economic success story" of Staffordshire.
As well as attracting new firms, the park aimed to offer prime sites for existing businesses.
"When you've got a business that's growing, you want them to stay in Staffordshire," Mr Adams said.
He said the site, near the M6 and M40, would be ideal for companies to expand by exporting to overseas markets.
He said the 43-acre site could also be a good base for firms making products for JCB or car manufacturer Jaguar Land Rover (JLR), which were both internationally successful.
JLR recently announced it would build its new engine plant in the county.
"It's not just about new jobs, it's about sustaining jobs and keeping talent in the area," Mr Adams said.
"We want people to move here and start-up businesses to want to be based here."
Jobs lost
Earlier this month, the GMB union said that 21% of manufacturing jobs, or more than 21,000, had been lost in Staffordshire over five years - the highest figure for an area in the UK.
The Conservative-run county council said that figure had included jobs from outside the area and Staffordshire businesses had seen closer to an 11% reduction.
Nevertheless, the council said it was working hard to attract and keep jobs in the area.
Mr Adams said the Redhill plan built on the success of other business schemes, such as Lymdale Business Park in Newcastle-under-Lyme and Towers Business Park in Rugeley.
He said the two parks, both on former industrial sites, had brought thousands of jobs to the area.
The councillor said the area also offered the skilled workforce necessary as a result of its proximity to Keele and Staffordshire universities.
Skills were also provided by key apprenticeships, such as those run by Jaguar Land Rover and energy and rail infrastructure company, Alstom.
Mr Adams said the Redhill scheme aimed to provide jobs "for decades".
He expected it to "get whole-hearted support" and that work could begin in September and be completed in the spring of 2013.
The plans will be on public display at the Stafford North Hurricane Premier Inn, Redhill, from 16:00 GMT to 20:00 GMT on 29 February.