Bus subsidy 'must have' for blind people in Stoke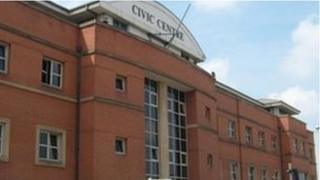 Plans to scrap free morning rush hour bus travel for disabled people in Stoke-on-Trent have been criticised by two sight loss charities.
The city council is proposing saving about £100,000 a year by removing free bus travel before 09:30 for people eligible for concessionary passes.
But Rebecca Swift of the Royal National Institute for the Blind (RNIB) said the concession was a "must have" for many.
The council met Action for Blind People, which is also against the plan.
The council is looking at ways of reducing its public spending by £24m in 2012-13.
'Raft of cuts'
Ms Swift said: "We have been urging the council to re-consider this proposal.
"At the moment disabled people and their family and friends are facing a raft of cuts to disability benefits and services.
"Concessionary bus travel is a disability-related benefit. It's not a nice thing to have - it's must have for many people to help them live independently."
She said nationally only about 34% of blind and partially-sighted people were in work and this would be "another barrier" to them as well as those trying to find work or training.
Ms Swift said bus travel was the sole use of the transport for the majority of blind people.
The regional campaigns officer said Staffordshire County Council was not placing the same restrictions on the pass, so people in Stoke would be "at a disadvantage" to others in the county.
But Labour-run Stoke City Council said nationally the concessionary pass started at 09:30 so its own subsidy was "over and beyond" that provided by other authorities.
Adrian Knapper, cabinet member for transport and planning, said: "We have been listening very carefully to the feedback we have received on all the budget proposals, and in this case, officers met with Action for Blind People Stoke-on-Trent on Tuesday to hear more about their point of view."
The council is set decide on the final budget proposals which will be put before full council for approval on 23 February.