Syndrome without a name: Living without a diagnosis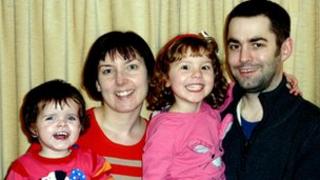 A mother from Stafford is trying to raise the profile of a genetic condition that means her daughter has barely developed since she was four months old - and is unlikely ever to walk or talk.
Emma Hawley's younger daughter, Jessica, now 18 months old, has a condition which has come to be known by the generic term, Swan, which stands for Syndrome Without A Name.
The number of children affected is not known, but Mrs Hawley is calling on members of the public, and even doctors, to be made more aware of the problem.
She said she sensed early on there was a problem with her daughter.
"She just stopped developing. She just fell off all of her weight charts and used to just lie there in a world of her own.
"By four or five months, you start expecting them to smile and follow you round a room.
"I starting doubting whether it was myself thinking there was a problem, and as a family, you don't like to admit to each other that you think there's something wrong."
'Emotional rollercoaster'
Doctors initially said Jessica had reflux and prescribed medication but after six weeks Jessica was still no better.
By this point, Emma was extremely concerned; having had one child already, she knew that Jessica hadn't reached some of her important baby milestones.
Jessica endured numerous tests to see if medical experts could find out what was wrong, but all came back negative.
Finally, they decided to take Jessica to a private consultant who arranged for an MRI scan, which showed there was something wrong; and that Jessica may never walk or hold a conversation.
Swan UK is a charity that offers support and information to families of children with undiagnosed genetic conditions.
"You have no idea what the future holds for a child," said Lauren Roberts, from Swan UK.
"If you don't have a diagnosis, you don't know if they'll ever walk, or talk, or what their life expectancy might be.
"You spend your whole life going through this constant emotional rollercoaster of test after test coming back negative and no-one being able to give you any answers.
"They can have their entire genetic code sequenced, but we still can't find the root of the problem.
"It's mainly because it's such a tiny change in their genetic code that doesn't get picked up in the tests."
Ms Roberts said the charity had been going for six months and they were already helping more than 250 families.
"It's estimated that for children with learning difficulties somewhere between 30 to 50% might have a condition that's unknown.
"When families come to us, it's often common themes: they feel incredibly isolated, they feel like they're living in this kind of limbo-land because no-one can give them any answers."
Mrs Hawley has taken Jessica to baby swimming classes since she was five weeks old. As a baby swimming instructor, she realised this was one way that she could help Jessica.
'Such a relief'
Without a diagnosis or treatment plan, she could not make her daughter better, but getting her in the pool and floating in the water, she thought she could at least aid Jessica's muscular development.
"Being weightless in the water, Jessica is able to float and paddle easily. She finds it hard to put weight on her legs on land, but in the water she is equal to other children her own age.
"It is such a relief to see her in the water, floating and enjoying splashing about without a care in the world, just like any healthy child."
The couple remain optimistic and continue to fight to find out what is wrong with Jessica, however they are beginning to come to terms with the fact that they may never find out.
But they hope to raise awareness of the condition in medical circles and to help other families suffering similar experiences.
"We went to Birmingham's Children's Hospital in December and we saw the paediatric consultant there, and I said 'she's got a Swan, a syndrome without a name, and he went 'Oh I've never heard of that one'."
"At the moment I've got nothing to research... Google's a lovely thing, but it's also a bad thing, because you just latch on to anything."