Foundations laid at Stoke-on-Trent bus station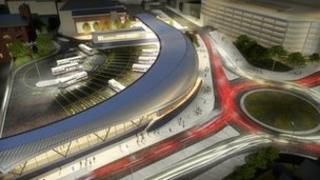 A ground-breaking ceremony in Stoke-on-Trent on Monday will mark the start of work on the foundations of the city's new bus station.
The building work marks the first phase of a £350m regeneration of the area, which will include a new shopping and leisure complex.
Councillor Ruth Rosenau, cabinet member for regeneration, said digging the 8m deep foundations was "no small feat".
The John Street bus station is expected to open in the autumn.
Developers Vinci Construction said some 3,500 cubic metres of earth needed to be removed to prepare the site.
Construction on the bus drivers' accommodation and main concourse building is due to start in the spring.