Stafford Hospital A&E: No night service until May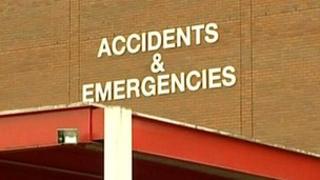 Health bosses have said that Stafford Hospital's accident and emergency (A&E) night time services will be closed until May at the earliest.
The department has been temporarily shut since December as managers try to recruit more consultants and middle grade doctors.
Mid Staffordshire Trust said although progress has been made, its action plan has "not yet been achieved."
The Unison union said the delay was "of great concern".
The trust said it has four of the six consultants it needs to recruit in post, with two more due to start work by February.
It has also recruited four of the nine middle grade doctors it needs. Another will start work in March and it is trying to process the paperwork for another appointment.
Chief operating officer Maggie Oldham said the earliest date the decision to reopen would be taken was at a board meeting on 29 March.
It would then be another six weeks before the A&E department could reopen at night, she said.
Ray Salmon, from Unison, who represent workers at the hospital, said the union never believed the trust would meet its recruitment targets and is still worried about the lack of night time A&E cover.
He said: "They have only got away with it because of the mild winter weather - they have been very lucky."