Leek outdoor market loss rises by half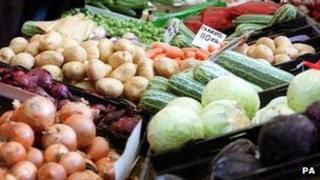 A Staffordshire market's trading loss has increased by more than half, council figures show.
It rose to more than £60,000 in 2010/11 for the Leek outdoor market, compared with about £40,000 in the previous year and more than £10,000 in 2008/09.
Every Wednesday 76 stalls are put up, but there are about 20 regular stall holders outdoors in Market Place.
Two indoor markets in the town, the Butter and Trestle markets, have fared much better and subsidise others, Staffordshire Moorlands District Council said.
'National problem'
The first Leek outdoor market of 2012 on Wednesday was cancelled on health and safety grounds due to high winds.
Asked what the problem was, the council's markets manager David Murrell said he thought it was "a complex one" and there was "a national problem of a decline in traditional markets".
"Over the past 30 odd years we've all changed the way we shop. There's the advent of supermarkets, there's the advent of online shopping and there's a huge amount of revenue that goes that way now.
"Markets are traditional and they've got to compete in an ever increasing, challenging market place overall and to do that we've got to get smarter.
"We've got to provide more help, present better, have different lines."
The Butter and Trestle indoor markets made a profit of more than £60,000 in 2010/11.
But elsewhere in the council's area, Cheadle's outdoor and indoor markets made a loss of more than £30,000 in the same period.
The council was looking at an improvement plan for all of its markets over the next two to three years and developing marketing plans.
Mr Murrell said the authority was looking at options to reduce the cost of erecting and dismantling stalls, which was more than £85,000 a year.
'Declining areas'
The council was also working more closely with the town council, the chamber of trade and industry bodies, such as the National Market Traders Federation (NMTF), he added.
Mr Murrell said: "[We're] looking at how other markets around the country have made successes out of what were declining areas."
NMTF chief executive Joe Harrison said he knew the position of the Leek market and suggested "maybe putting some of the stalls along the high street, the main footfall of the town".
He added: "Maybe that would make some improvements.
"Very often on the national scene markets are in the traditional sort of historic parts of the town, rather than in what was developed in the 60s and 70s, slightly off where the historic centre was and that's now become the new town centre.
"So I'm not talking about miles away. I'm talking about a few hundred yards and yet it makes such a big difference."
Mr Harrison said markets had got to keep themselves "at the cutting edge" in a competitive world.
"We realise traders need to stand outside the stall and look in and see what they're getting right and what they're getting wrong.
"Many of the big boys in the high street are doing that week in, week out and that's what the traders need to do."