'Concern' over Port Vale Football Club's council loan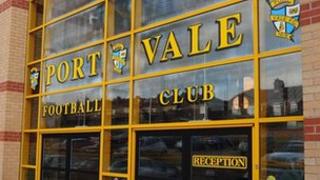 The leader of Stoke-on-Trent City Council says he is "concerned" by apparent boardroom turmoil at Port Vale over an outstanding loan.
Chairman Peter Miller departed the League Two club on Thursday just five days after chief executive Perry Deakin resigned.
The club had applied to the authority for a £2.25m loan in 2006 in order to pay outstanding debts.
Councillor Mohammed Pervez said the council was "monitoring the situation".
In 2009 the authority issued a two-year repayment holiday, which meant that during that time the club was only required to pay the interest on the loan. That period ended in April.
Mr Pervez said the Labour-led council had received regular payments in recent months, but he said the authority was trying to clarify the current state of the club's finances.
"Our officers are in dialogue with the board and continue those discussions to ensure they're kept updated with the situation," he said. "That will continue over the next few weeks.
"From a council's point of view it would be in our interests to keep a football club going. But at the same time the council's not in a position to write off loans."
The club was unavailable for comment on Friday, but earlier it was announced that a short-term loan had been taken out to help with the day-to-day running of the club.