Wedgwood collection 'can be sold' to plug pension debt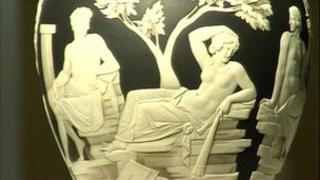 The Wedgwood Museum pottery collection can be sold off to help plug the ceramic giant's £130m pension deficit, a High Court judge has ruled.
The museum, in Barlaston, was put into administration last year after the pottery firm collapsed and its £134m pension debt was transferred.
The Wedgwood family said last October it would be "devastated" if the unique collection were sold.
The collection is worth £11m to £18m, the High Court heard on Monday.
Administrators can now dispose of the collection to help pay off the deficit following the collapse of Waterford Wedgwood Plc in January 2009.
The museum was put into administration in March after the transferral of the firm's pension debt.
George Stonier, chairman of the Wedgwood Museum Trust, said: "Having raised the money, built the museum, and won the Museum of the Year award in 2009, then to find out that, by the way, the collection was never held in trust, is completely devastating."
The museum's collection is a unique archive spanning more than 250 years of history and includes works of art such as Josiah Wedgwood's celebrated Portland Vase. There are also paintings by George Stubbs and Joshua Reynolds.
"It must, at all costs, be protected," Eric Knowles, BBC Antiques Roadshow ceramics expert, said.
"This is the heritage of not just Stoke-on-Trent, it's the heritage of the nation. It belongs to me and you."
With the prospect of the museum being forced to raise money to ensure its survival, local MPs are set to meet ministers on Tuesday.
Stoke-on-Trent South MP Rob Flello said: "We have to see the government, and we have to see other parties, the creditors, coming together and finding a way how we can keep this collection together."