Stoke mosque arson: Ex-soldier Simon Beech on trial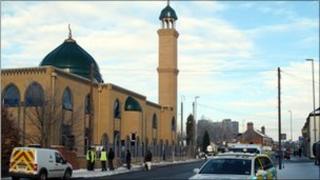 An ex-soldier on trial for setting fire to a mosque "liked" messages posted on Facebook calling for attacks on Muslims to "sort them out", a court heard.
Simon Beech, 23, of Stoke-on-Trent is charged with arson in connection with a fire at a mosque in the city on 3 December 2010.
Another man, Garreth Foster, 29, faces the same charge in relation to the fire which caused £50,000 worth of damage.
Both men deny the attack on the building in Regent Road, Hanley.
Stoke-on-Trent Crown Court was told that Mr Beech, of Hilton Road, Hartshill, was arrested at his barracks six days after the "determined" arson attack.
He was a serving soldier at the time of the fire, but was later discharged by the 2nd Battalion, the Yorkshire Regiment.
Opening the case against Mr Beech and Mr Foster, of Hartshill Road, Stoke-on-Trent, prosecutor Paul Spratt said a 150-metre long pipe running to the mosque from a gas meter outside an office had been found by police investigating the blaze.
Mr Spratt said: "Had it not been a poor connection (between the gas supply and the mosque) then inevitably the reality would have been a substantial explosion."
Jurors also heard that police inquiries established that Mr Beech, who was based at a barracks in Preston, sent a text message to Mr Foster around a month before the incident asking him if he was "up for" causing an explosion.
'Sort them out'
During his opening speech, Mr Spratt said police had been able to establish that Mr Beech "felt very strongly about Muslims" after accessing his Facebook account.
Mr Spratt told the jury: "He found persons through Facebook who had like-minded views. One observation he plainly agreed with was 'Nuke All Mosques'."
The court heard that Mr Beech was also found to have written: "We need to start taking things into our own hands. It's time to sort them out."
In another posting, the court heard, Mr Beech went on: "The time has come. They burn our poppies, we burn their places. Burn the lot of them out."
Although Mr Beech accepted that he was a supporter of groups publicised as holding similar views, he maintained he was not in anyway racist in his conduct, Mr Spratt added.
The Crown alleges that both men can be linked to the scene of the arson by forensic evidence, including footprints left near the mosque in the snow.
Two balaclavas found at Mr Foster's flat, which contained fragments of glass, are also said to help prove that the defendants were responsible for the offence.
The mosque, which was partially built at the time of the fire, had not been fitted out. No one was hurt.
The trial continues.