Medieval seal on display in Staffordshire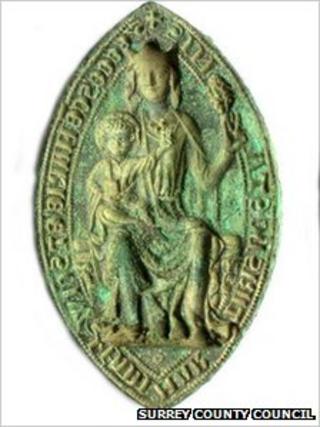 A medieval seal thought to have once belonged to Stone Priory in north Staffordshire has gone on display.
The copper object, which bears the image of the Virgin and Child, was found by a metal detector enthusiast in Cobham, Surrey, in September.
It will be on show at St Michael and St Wulfad's church in Stone as part of its Christmas tree festival.
Reverend Sally Smith, curate at St Michael's church, said: "It's important as it's a piece of our history".
The inscription around the seal reads: "S'ecc Sce Marie et Sci W(v)lfadi Martiris de Stanis" which can be translated as "seal of the church of Saint Mary and Saint Wulfad, Martyr of Stone".
Point for pilgrims
It is thought to date from between the 13th and 14th Centuries. It is not known how the item ended up in Surrey.
The seal is oval and pointed at each end. It is nearly 3in (7cm) long, 2in (5cm) wide and weighs about 3oz (84 grams).
David Pott, leader of the Two Saints Way project which is reviving a pilgrimage route between Chester and Lichfield, said: "We would like to buy it so it can be something special for many visitors.
"It is very much from the age of pilgrimage and larger than most seals of that time."
Mr Pott said the priory was a key stopping point for pilgrims.
Stone Priory was built in the 7th Century by Wulfhere, who was the first Christian king of all of Mercia. It was dedicated to Mary and a local martyr, Saint Wulfad.
When the item was discovered, Philip Jones, leader of Stone Town Council, said: "Stone is very proud of its history and heritage and can trace its history back to the Middle Ages.
"We would very much like to have the artefact to preserve in the council chamber."