Concern over North Staffordshire NHS trust finances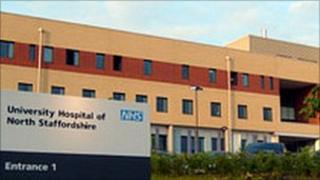 The finances of a Staffordshire health trust are of "significant concern", according to the Audit Commission.
The University Hospital of North Staffordshire NHS Trust needs to make savings of £47m in its 2012/13 budget.
The Audit Commission said this was partly due to the increased cost of the new hospital, which was built under a private finance initiative (PFI).
The trust's chief executive Julia Bridgewater said it was working to resolve the issues.
The Audit Commission warned the trust it was "unlikely" to make the savings without reducing either the level or quality of service to patients.
But Ms Bridgewater said she was "determined" this would not happen.
She said: "We made public several months ago the size of the financial challenge facing University Hospital next year and we have been working with our PCT and commissioning colleagues over the past six months to resolve the issues we all face in the NHS in this area.
"I am determined to resolve the financial challenges without impacting on patient care."
The Audit Commission report said the trust was managing its finances well in "difficult and challenging" circumstances but said the risks it faced "continue to grow".