Stafford Hospital inquiry ends at cost of £10m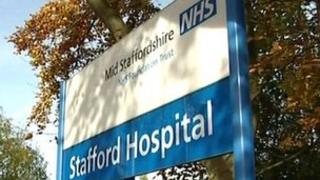 The £10m public inquiry into standards at Stafford Hospital has ended after 139 days.
A million pages of evidence have been presented to the chairman, Robert Francis QC who is expected to publish his findings next year.
The inquiry was set up after a Healthcare Commission report in 2009 found "appalling standards" of care.
Conservative MP for Stone, Bill Cash, the question of nursing and management needed to be looked at.
'Safer for patients'
Julie Bailey, from the campaign group, Cure the NHS, has listened to much of the evidence.
"Something needs to change and we're hoping from this inquiry that the recommendations will ensure in the end we get a much safer system for patients," she said.
Another group member, Roger Dobbing, said the inquiry was about the whole NHS and its future.
"It was necessary for us to look at in this depth in order to find out what has gone wrong in the past, not only here but in many other trusts across the country."
Mr Cash said: "When the report comes out people will be able to judge for themselves what went wrong and what must be done about it."
The former chief executive of the hospital, Antony Sumara, believes Mr Francis is facing a difficult task.
"There have been lots of other inquiries which have come up with similar recommendations and they've not been implemented.
"I think he's got to try to be creative and a bit more thoughtful about how he's going to get his messages across and make sure they are implemented."