University Hospital of North Staffordshire death rates researched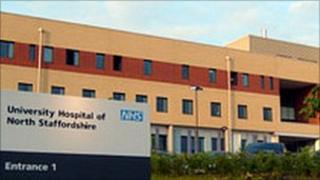 A hospital in Staffordshire has had higher than expected mortality rates in three categories, research firm Dr Foster said.
The figures relate to University Hospital of North Staffordshire NHS Trust from April 2010 to March 2011.
In one category, deaths after surgery, the figure was 46% higher than would be expected.
A spokesman for the hospital said it took the warning from the figures "very seriously".
'Sort it out'
The Dr Foster review looked at performance overall in England, warning death rates appeared to be higher than they should be in more than a quarter of trusts.
It said relating to the measure of deaths in hospital, 16% more patients were dying than would be expected at University Hospital of North Staffordshire NHS Trust.
In terms of deaths linked to low-risk conditions, there were 1.39 deaths per 1,000 patients at the trust.
Medical director at University Hospital of North Staffordshire Robert Courteney-Harris said if there was an issue, it would "sort it out".
'Better than average'
He added that in terms of deaths in hospital, the Hospital Standardised Mortality Ratio, it did not "have a history of high HSMRs" and this year it was nearly back to average.
Mr Courteney-Harris also said that this year two other methods it uses to measure the mortality rate within the hospital "said that we were around about average".
He added: "This is the first time that our Dr Foster overall rating has been high. In the past four or five years it's been better than the average.
"We randomly look at 50 deaths every so often.
"We don't just wait for a report to tell us there's an issue."
Dr Foster, which works closely with the Department of Health, said its findings needed to be investigated urgently.
Katherine Murphy, chief executive of the Patients Association, said she was "appalled" by the findings.