Lord Mayor role under review in Stoke-on-Trent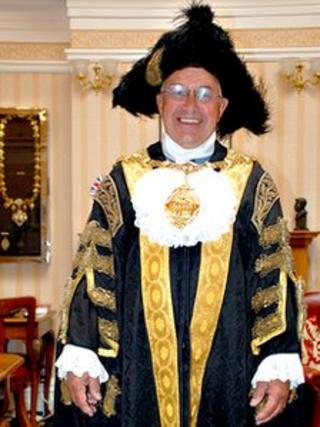 The role of Stoke-on-Trent's Lord Mayor could be significantly reduced as part of budget cuts.
Under the plans, the Lord Mayor would still chair council meetings, but would no longer appear in public to perform ceremonial duties.
The council said that it would save £130,000 a year.
Stoke-on-Trent has had 83 Lord Mayors since the title was conferred on the city in 1928 by King George V.
For the Lord Mayor, it would mean losing the mayoral car, chauffeur, secretary, hospitality and allowances.
A group of former Lord Mayors in Stoke-on-Trent have launched a campaign to save the post. They have set up an e-petition on the city council's website.
"We are the ambassadors of this city, we represent this city, we promote the city," said ex-Lord Mayor Derek Capey.
"If you're not going to do that, then I think it's a retrograde step."
Review period
Former Lord Mayor Jean Bowers said: "If we lose this, then we're really slapping the face of the monarchy, because it was those who made us a city.
"It is value for money because we do so much. The current Lord Mayor doesn't know which way to turn at the moment because there's so much going on."
Stoke-on-Trent City Council said it needs to cut £24m in 2012 and this is just one of the ideas to help it achieve savings.
It also said that this proposal would cover three years and there would be a chance to review the decision after that period.
Devon and Scarborough councils have also been looking at cutting the budget for their mayors, but Stoke-on-Trent council is the first to propose scrapping the ceremonial function altogether.