'I was told day in and day out that I was no good'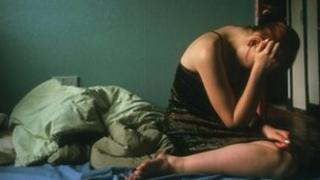 After years of being stuck in a violent relationship, a woman from Staffordshire said the lowest point came when she was threatened by her boyfriend with a machete in front of her daughter.
The woman, known as Sharon, said: "I lived with my partner for six years and it's taken myself and my 10-year-old daughter three and half years to get out of that relationship.
"He's now in prison - but the after effects and the harm witnessing the abuse that my daughter suffered as well as the abuse I suffered is very very damaging and it's really hard to get over."
Sharon was speaking out on the day Arch, a Staffordshire charity that supports people affected by domestic abuse, said more and more victims had been ringing its helpline.
Paul Bridges, the group's chief executive, said calls had increased in the last year from 1,000 to 1,500.
Mr Bridges said: "We think part of it is about promoting the helpline but part of it is that people are less willing to tolerate domestic abuse in their family situations.
"If you talk to the survivors, it's the emotional suffering they face that stays with them for a hell of a lot longer."
Sharon is worried about the long-term effects the experience has had on her daughter.
"She still won't stay in a room on her own, she won't go to the toilet on her own, she won't sleep on her own.
"I don't know how long she'll be like that but hopefully in time she'll get back to normality."
Sharon said the abuse suffered herself ranged from verbal to physical.
"I was told day in and day out that I was no good - those personal insults then increased into physical violence.
"He actually tried to attack me with a machete in front my daughter on one occasion when we were out in the street and that's still a very vivid memory - she was six years-old then."
'Taboo subject'
Sharon said the relationship with her partner had a damaging impact on the relationship with her daughter.
"I found it very difficult to talk to her openly and honestly about the incidents - often she would hear violence taking place in the next room.
"She was very withdrawn but it was a bit of a taboo subject. I'd just say, 'Daddy's been naughty' and we'd look at each other and have this silent communication."
She said it was difficult to face the guilt of not being able to leave the situation.
"As a mum you think you're protecting your child and keeping them in that place of comfort when actually you're not.
"People said, 'Why don't you just leave?' but actually leaving is the hardest thing to do because he should just stop, basically.
"When you leave it's not just the physical safety for you and your child - it's about the emotional safety too."
Sharon said she now fully understands what lies behind domestic abuse.
"It's all about power and control over another individual and it's basically where one person will wear the other person down until they shape them into what they want that other partner to be."
With the patience, help and support of others she and her daughter had been able to move on, said Sharon.
"We're only in the place that we are today because of the support of lots of non judgmental professionals, especially from other women that have been in the same situation that me and my daughter have been in.
"We realise we're not on our own and it happens, sadly, far more often than people like to admit."