Stafford Post and Chase Post print final editions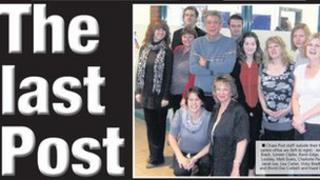 Two West Midlands free weekly newspapers have published their last editions after owners announced their closure on Monday.
The Stafford Post and Chase News were published on Thursday, with the last edition of Sutton News due to be printed on Friday.
The three local papers are among 16 in the region owned by Trinity Mirror.
Editor of both the Stafford Post and Chase Post Mike Lockley said the news had been a shock.
Mr Lockley said: "We understand [the decision], but it doesn't make it hurt any less. Our headline today was The Last Post.
"I celebrated my 25th anniversary as editor last week, I'm very old school and started in the industry in 1975.
"But when you looked, the paper was slimming down. We were aware how tough the market place was out there."
Trinity Mirror, which said the closures had come after a "detailed review of the business", said it planned to share resources across a number of its remaining titles, including advertising departments.
It said a total of 66 jobs would be cut in the region following the review.
Chris Morley, from the National Union of Journalists, described the cuts as a "serious threat to journalism" in the region.
Jeremy Lefroy, Conservative MP for Stafford, said the closure of the Stafford Post was sad news and that it would "leave a big hole in local journalism".
Mr Lockley said that he was proud of the paper, and the reporters who had worked on it.
"I'm particularly proud of the work we did on Stafford Hospital. I really do think that made a difference."
He added that he had been touched by the level of support from the local community.
"A few journalists said 'have you seen what they're saying about you on social network sites? It's tremendous stuff'.
"The very tool that has played a part in the demise of local papers was being used as a tribute to us."