Blackbrook Zoological Park animals to get old hoses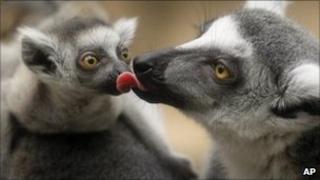 A fire service is to donate 10 lengths of old hose to a zoo for animals to play with.
Staffordshire Fire Service will give the hoses to Blackbrook Zoological Park, in the Staffordshire Moorlands.
The lemur enclosure is one attraction at the zoo set to benefit with some of the hose due to be installed for the lemurs to swing on.
The service said the donation was part of its efforts to be as environmentally friendly as possible.
Chief Fire Officer Peter Dartford said: "As part of our vision to make Staffordshire Fire and Rescue Service as green as possible we have formed a partnership with Blackbrook Zoological Park to recycle old, unwanted lengths of hose.
"The hose would have otherwise been waste material but instead will be installed in animal enclosures at Blackbrook and used by some of the animals there as swings and perches.
'So grateful'
"We are happy to help the zoo and this donation will mean they can spend funds on other essential items."
The hoses will be handed over to the zoo, which is run by a charitable trust, on Friday.
The zoo's general manager Debbie Hughes said: "We are so grateful for the support from Staffordshire Fire and Rescue Service.
"This donation has saved the charity a great deal of money which can now go towards the running of the park.
"It costs £35,000 to run the park each month with over £4,000 of that going on electricity alone so this kind of support ensures we can continue with our work."