Stoke-on-Trent City Council set to miss savings targets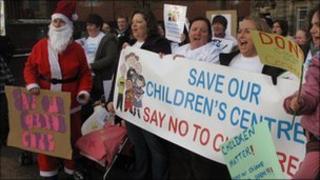 Stoke-on-Trent City Council has said it looks set to miss its savings targets by almost £1.9m.
The authority needed to make £36m savings this financial year, with a target of £8m yet to be achieved.
Councillor Sarah Hill, cabinet member for finance, said she hoped the projected overspend could be reduced before April 2012.
She said part of that might involve only appointing staff that "we absolutely have to".
'Difficult decisions'
Ms Hill added that directors in different departments were already looking at how the savings could be made.
She said: "We had to come up with £36m of savings very, very quickly, because the government gave us our settlement so late in the year.
"You can't save £36m without making some very difficult decisions."
In September, the council decided to scale back planned cuts in funding for children's centres from 30% to 20%, after public consultation.
Ms Hill warned that next year's budget, due to be announced on Monday, would be even more difficult to put together than the existing one.
"We took a lot out this current year and there's less to take away.
"We would also like to be in a position where we can make some investment," she added.