Twitter used by West Midlands Police forensic teams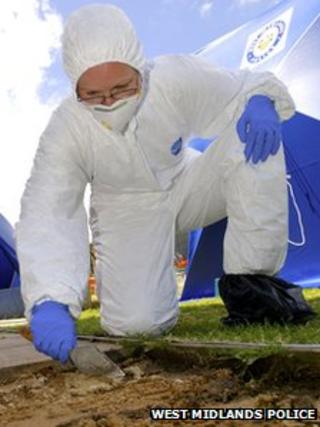 Three suspected burglaries came under the spotlight as forensic scene investigators (FSIs) from West Midlands Police began a 24-hour tweet.
Investigators are tweeting live from crime scenes to provide an insight into the world of forensic science.
The force claim it is a national first and will reach in excess of 8,000 people who follow them on Twitter.
The "tweet-a-thon" started at 07:30 GMT, using the Twitter handle @brumpolice.
FSIs uploaded photographs of their scientific equipment and advised the public on how to preserve vital evidence should they become a victim of crime.
The first call of the morning saw the investigators head to the scene of a break-in.
"Arrived at sene [sic] of attempted burglary. Smashed glass and signs of entry. Blood to be examined," the tweet said.
'Dispel myths'
This was followed by two more calls to suspected burglaries.
FSIs tweeted: "Third job of the day is a further burglary. Its really important crime scenes are preserved so we often wear gloves and masks."
An update read: "Footprint impression taken from the front door. There is further damage inside the property to look at."
The experts also gave an insight into the processes and equipment used to do their job.
"The brush and powder selected depends on the colour, texture and condition of items being examined for fingerprints," one tweet read.
The pilot was given the go ahead by forensic bosses after police Twitter followers said they wanted to learn more about FSI roles, having had their interest fuelled by popular TV shows such as CSI and Dexter.
'Relate back'
Forensic scene manager Helen Evans said: "We hope that we can captivate followers with our tweets and share some of the work that is undertaken on a daily basis.
"Most people seem to think that the role is similar in nature to CSI or other American TV dramas.
"So hopefully we can dispel a few myths while also showing how varied and challenging the role of a real forensic scene investigator can be."
Kevin Ramsay, who worked the afternoon and evening shift, said: "We won't actually be going into any detail that's going to compromise an investigation.
"But we will try to make it interesting for people, so that they can relate back to different TV programmes and dramas that they've seen."