Accord factory builds low carbon timber homes in Walsall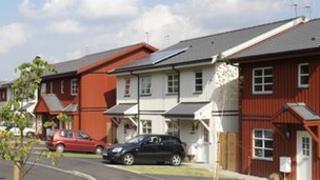 A housing association in the West Midlands has opened a factory manufacturing low carbon timber homes.
The Accord Group will create up to 30 jobs at Beechdale in Walsall, producing about 200 houses each year.
It piloted an earlier timber housing scheme in Redditch, but the homes were imported from Norway.
The not-for-profit organisation set up the factory with the help of Walsall Council. The first homes are expected to be completed in the spring of 2012.
'English street scene'
"It's a very green product to manufacture," said Alan Yates, from Accord.
"They're very energy efficient homes. The ones we've been building from Norway, the average energy cost is around £200 a year.
"We provide housing for people predominately on low incomes, so with energy costs rising rapidly, they help to keep people safe and warm."
Mr Yates said that build costs are on a par with brick-built houses, but in the future, the company hoped to reduce them by between 10-20%.
"The houses we've been importing do look a bit like Norwegian houses with vertical timber cladding, so the houses we're manufacturing look more contemporary and sit better in an English street scene," he added.