Stoke-on-Trent redevelopment will continue, says council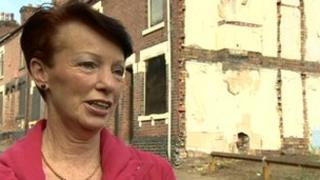 Stoke-on-Trent City Council says it is still planning to redevelop areas of the city that have been affected by a stalled regeneration programme.
Renew North Staffordshire was set up in 2003 to overhaul some of the region's more run-down areas.
But the government cut funding earlier this year which, by its own admission, left some residents "stranded in derelict neighbourhoods".
Residents have spoken of their despair with the whole affair.
Florence Walker is one of the few people left on Ludlow Street.
The houses on her side of the street are still standing but on the opposite side many buildings have already been knocked down, while some of those that remain are boarded up.
'Abandoned streets'
Ms Walker said: "What's the point in trying to keep your house in a decent level of upkeep. You come out of your door and what've you got - a building site. We're stuck."
A Communities and Local Government spokeswoman conceded Renew North Staffordshire had not worked as intended under the previous Labour government and that it had resulted in "large scale housing demolitions, pitting neighbour against neighbour and in some cases trapping families in abandoned streets".
"The government is committed to helping these residents who are stranded in derelict neighbourhoods through no fault of their own, which is why we have announced a £30m lifeline for the areas that have been left worst affected. We expect to allocate the funding shortly."
In a statement the Labour-led council said it was progressing with the rehousing of residents of Bucknall New Road, Ludlow Street and Dresden Street whose properties were subject to compulsory purchase orders.
Inside Out is broadcasting an investigation into the redevelopment of Stoke-on-Trent on Monday, 14 November on BBC One in the West Midlands and Sky Channel 979 at 19:30 GMT.